It's Our Back-to-school giveaway!
Saturday, August 3, 2019 | 9:30AM - 12:30PM
Olympic High School 4301 Sandy Porter Rd. Charlotte, NC 28273
It's that time of year again! Kids are heading back to school and we want to make sure every child has what he/she needs in order to succeed! If you have a child (or know of a child) who could use FREE back-to-school supplies, join us on August 3rd!
Also, if you'd like to make a donation, you can either click to give monetarily, or you can donate supplies based on our list of needs. All donated supplies must be dropped off at Olympic High School on Sunday, July 28th between the hours of 9am-12pm.
*Please note: Children in need of supplies must be present at time of giveaway in order to receive their supplies.
Click here to donate!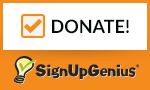 Click To Give